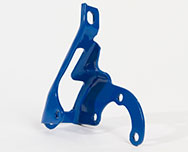 Our competitive advantage is the breadth of our manufacturing capabilities, commitment to complete customer satisfaction and talent that allows us to have a superior order through-put from design, tool build, APQP to first shipment.
The amount of flexible manufacturing available at our 3 locations allows us to approach business with a "can do" attitude that is a true value add.
We believe in real strategic partnerships where we leverage our strengths with those of our customers and suppliers to provide a superior product to the ultimate end user.
We are experts in designing and developing metal parts to be used in a wide variety of applications and industries.
Products We Specialize In:
Fuel Tank Straps
Air System Straps
Container Straps
Fuel Tank Brackets
Heavy Duty Brackets
Light Duty Brackets
Aluminum Steps
Crossmembers
Oil Pans
Radiator Components
Reinforcement
Dust Shield
Custom Fabrication
Contract Manufacturing